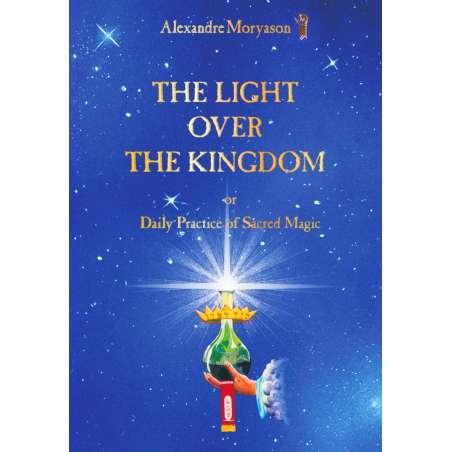  
THE LIGHT OVER THE KINGDOM
Or Daily Practice of Sacred Magic
Garanties sécurité
Protection des Achats Paypal possible
Livraison par UPS ou Colissimo
The Light over the Kingdom retrieves Sacred Magic from the land of doldrums where confusion matches dreams with legends, in order to restore its
crown: truth. magic, the science of the natural and divine laws, is the royal art for the man and woman of this century. once you have read this highly practical book and journeyed with its word into your heart of hearts, you will
never leave it to gather dust on a shelf, so much does its light clear away the lingering obscurities from some grimy "grimoires".
Never has there been such a disclosure, so precise and so clear, as is made by Alexandre Moryason, of the sure, efficient and easily-implemented means to make a success of your life. they may even prove a novelty for many an "initiate"!
This book deserves credit for doing away with the buzz word "elite" which enjoys pride of place among those who profess esotericism. it shows how magic is accessible to all, without consideration of religion, sex, race and schooling,as soon as this sublime science is explained in a simple way.
By practicing, if only for a few minutes each day, what this companionable book offers, each one will experience the quality of the teaching it delivers, but also and above all the efficacy of the theurgic practices presented: the door of the prison which may confine everyday life will swing open for you at last and for good.
Les clients qui ont acheté ce produit ont également acheté...